Show Opening
Please join us on Friday, June 25th at 4 PM for the opening of Rooted in History: Interpreting Alabama's Folk Art Traditions. The show will run from June 25th – September 7th at Harrison Brothers Hardware.
Harrison Brothers Hardware is located at 124 Southside Square, Downtown Huntsville, Alabama.
About the Exhibition
Founded in the 19th Century for its suitability to cotton cultivation, Huntsville has grown into a city known for space exploration and technological innovation. As we balance the tensions created by an honest assessment of our past with the creation of a just future, we ask both folk and traditional artists to draw inspiration from Alabama's folk-art traditions and create a contemporary vision of how these themes can be expressed in the 21st Century.
Jamie Adams
Carrie Alderfer
Tiavalya Befecadu
Sonya R. Clemons
Sharon Corbin
Carston Culbertson
David Edwards
Liza Harrison
Sue Johnson Hensley
Rickie Higgins
Timothy Joe
Christie Joy
Robin Reeves Monroe
The Art of Tracie Noles-Ross
Kathryn Wiley Price
Cynthia Handy Quintela
Hilary Simmons
Art by Marianthe
Logan Tanner
Harold Turner
Christina Wegman Fine Art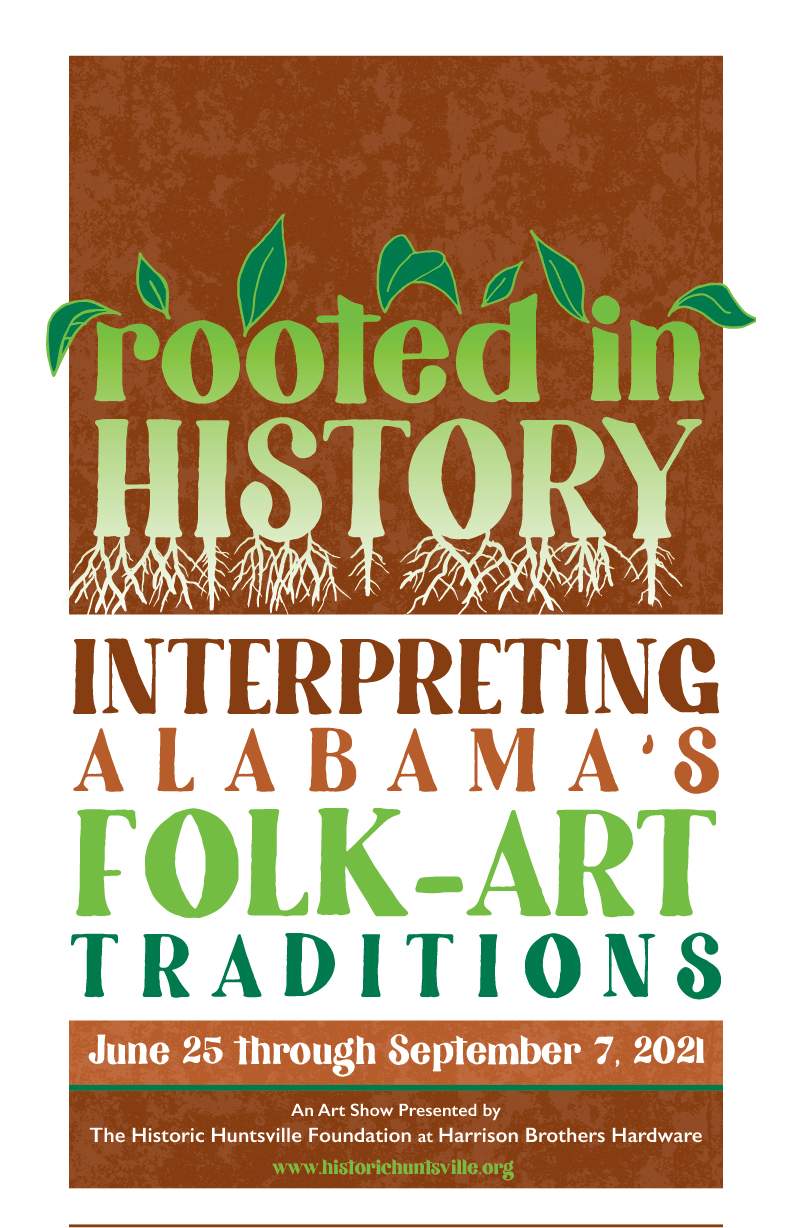 About the Venue
Rooted in Tradition will be on view in Harrison Brothers Hardware, Alabama's oldest hardware store and a fixture on Huntsville's courthouse square since 1897.  Originally a family business owned by two generations of Harrison brothers, the nonprofit Historic Huntsville Foundation purchased the store in 1984 to preserve the historic building and continue the traditions of the landmark store. With its original fixtures intact and beautifully preserved, the store is a fitting space for an exhibition celebrating Alabama's art and fine craft traditions.
Harrison Brothers Hardware is a top tourist attraction and enjoys a loyal following from residents in adjacent neighborhoods and across Huntsville and North Alabama.
---
An art show presented by The Historic Huntsville Foundation at Harrison Brothers Hardware
For more information, contact Donna Castellano at donna@ historichuntsville.org or at 256.508.5372.