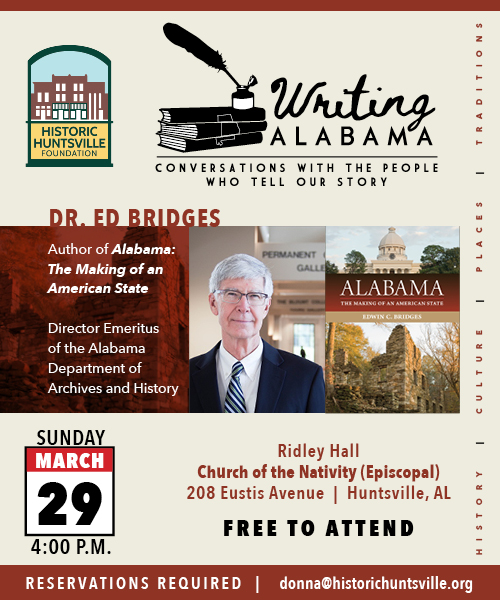 FREE EVENT – Sunday, March 29, 4:00 PM
Join Dr. Ed Bridges for an informative and entertaining discussion about his recent book , Alabama: The Making of An American State.
Ridley Hall
Church of the Nativity (Episcopal)
208 Eustis Ave, Huntsville, AL
Reservations Required – donna@historichuntsville.org
HHF's Educational Projects Sow the Seeds of Historic Preservation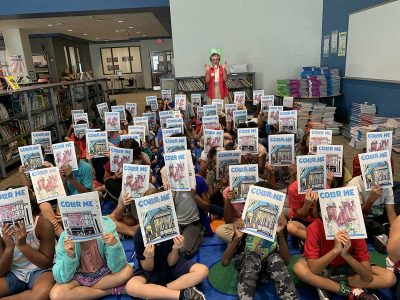 Color Me, Huntsville
Kids of all ages are drawn to Color Me, Huntsville, three coloring books with original sketches by artists Carole Foret, Christina Green, and Christina Wegman depicting Huntsville-Madison County's most historic buildings and sites.  Created by the Historic Huntsville Foundation for the Alabama Bicentennial, Color Me, Huntsville brings Huntsville-Madison County's history to life.
Order Books Online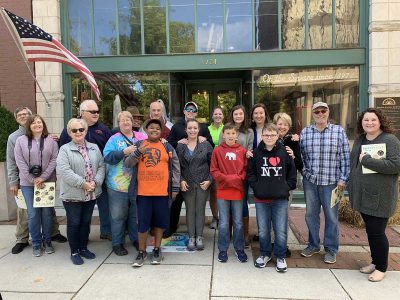 Finding Huntsville: A Kid-Friendly Field Guide to Huntsville's Historic Architecture
Use our nifty FREE Finding Huntsville field guide and activity book to explore the architecture on Huntsville's historic courthouse square. You can trace Huntsville's evolution from a cotton town to a space age city through the buildings on three city blocks, which contain examples from Greek Revival style (First National Bank Building) to International style (the Madison County courthouse) and everything in between!
Footsteps to Statehood: A Walking Tour Through History
On tree-lined  streets adjacent to Huntsville's courthouse square is a collection of Alabama's oldest houses that tell a story about Alabama's journey to statehood. HHF's Footsteps to Statehood brochure and walking tour traces Huntsville's role in Alabama's statehood through nine historic houses in the Twickenham Historic District built from 1814-1819.
From the site of Alabama's constitutional convention to the birthplace of the United States space program, Huntsville and Madison County has a history like no other. The richness and diversity of our historic resources reflects our community's unique journey and places a special responsibility on us to preserve our historic places for future generations.
Our home has Alabama's oldest homes and buildings, boasting ten National Register historic districts.   From the Greek Revival and Federal-style homes of the Twickenham Historic District to the neighborhoods of textile workers in the Dallas, Lincoln, Lowe and Merrimack Mill Villages to the space age subdivisions created for rocket scientists and engineers, Huntsville-Madison County has a history that must be seen to be believed.